Arachnid Host at Six Flags Fright Fest; September and October 2021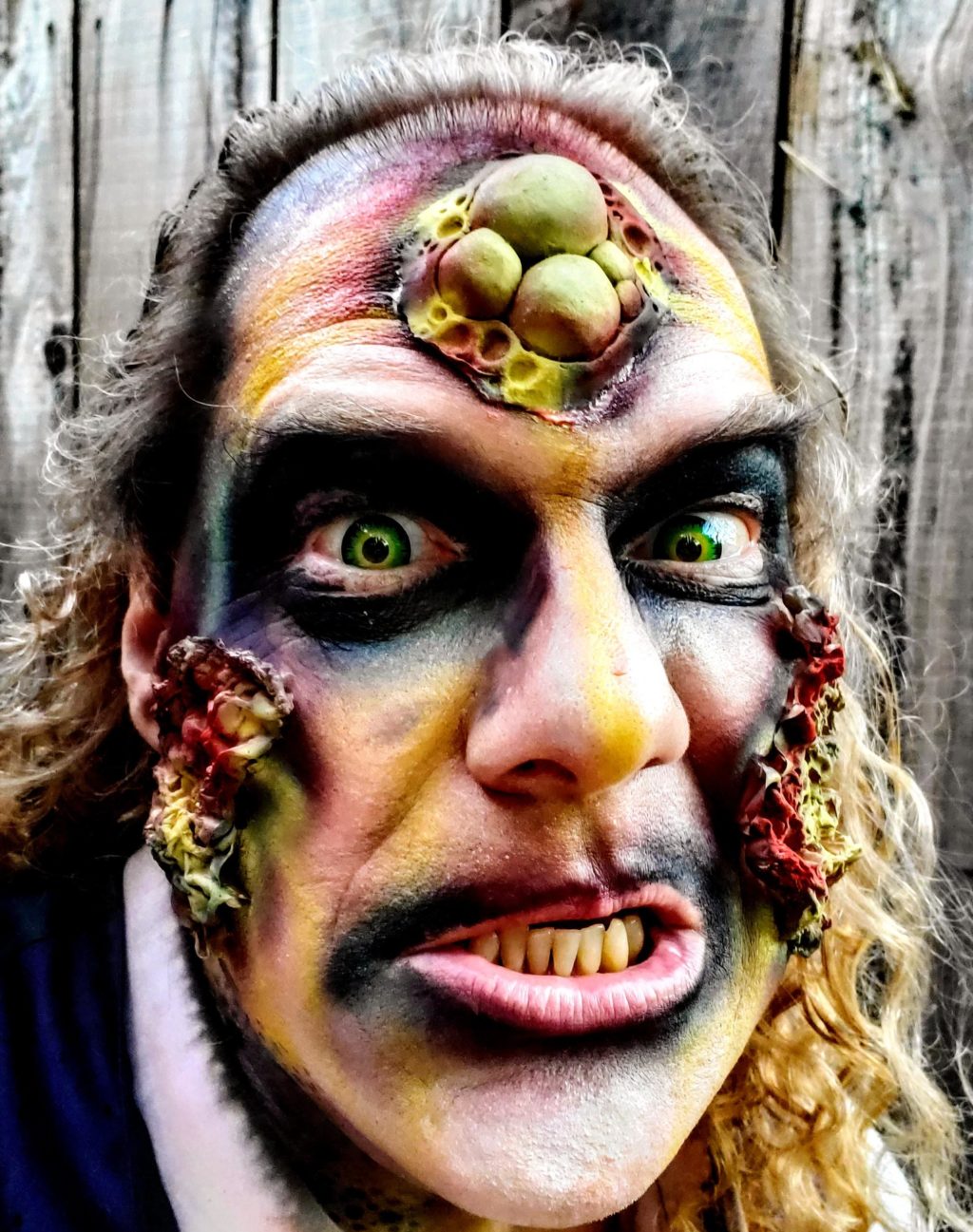 The Spider Queen cured my arachnophobia by laying her eggs in me, now my greatest fear is myself… Visit the "Arachnid Alley" haunted environment during the Six Flags Discovery Kingdom Fright Fest, and my Spider Queen might gift you as well…
Pirate Captain at Six Flags Fright Fest; September and October 2019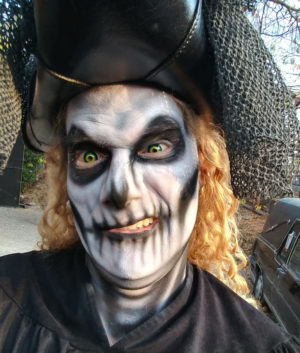 Looking for a frightfully fun time? Visit the "Shipwreck" haunted house during the Six Flags Discovery Kingdom Fright Fest. Somewhere in the dark, creepy, bowels of this doomed ship, is a shadow. It is there that I'm waiting for you…
Private Four-Day Event; June 2019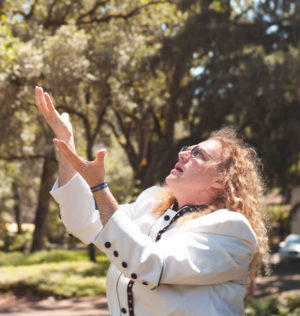 In keeping the event's theme, the cartoonish "Minister Manchego" made many cheesy assertions while evangelizing for dairy products, promoting gouda wheel to all, and guiding guests on their whey to enlightenmilk.
Clockwork Alchemy Steampunk Convention Workshop; March 22nd 2019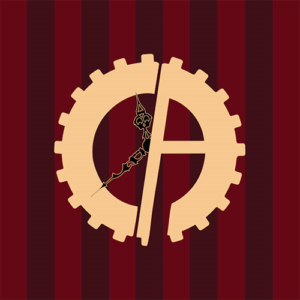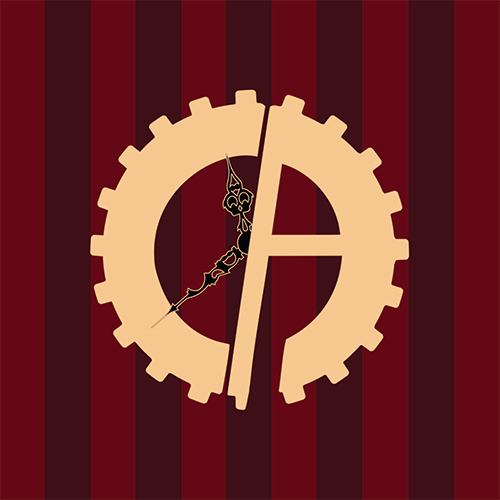 After two test trials, our "Discover Your Character" steampunk workshop makes its official premier at the Clockwork Alchemy steampunk convention. Join us on Friday, March 22nd, from 3 to 5pm, in the the "Sandpebble B" room. This interactive workshop will use a simple chance-based system to guide you through creating several fictional characters. You'll try out each character by using improvisational theater techniques, and discover which character traits resonate with you. No prior acting experience is needed.
Discover Your Steampunk Character; March 2nd 2019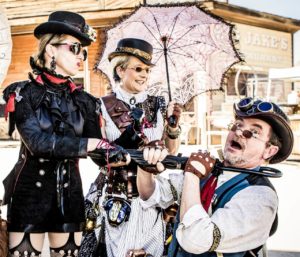 This character-centric workshop focuses on creating, then trying out, characters for the steampunk genre. Not familiar with improvisational theater, or steampunk? Then come and get a taste of that too. This workshop is free, but you must RSVP here.
Corporate Team Building; December 14th 2018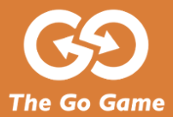 At this private event, I'll be a Plant Performer for a scavenger hunt style corporate team building event organized by The Go Game. To win points, players will need channel their inner stand-up comic, and make my character smile…
Wedding Event Lighting; September 2018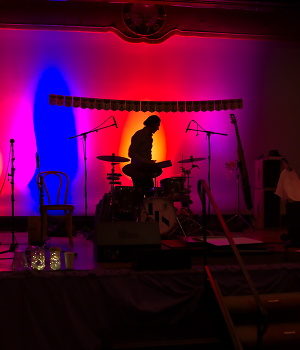 At this private wedding, we're delighted to plan and execute the reception hall event lighting design, and to do the theatrical lighting for the band. You can also see some photos I took of the wedding.
Obtainium Cup Contraptor Rally; July 22nd, 2018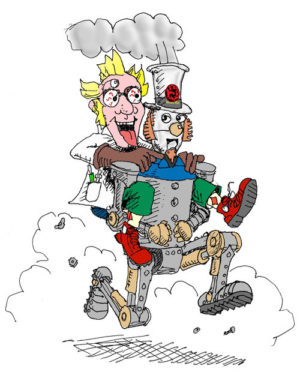 The Obtainium Cup is a whimsical art car competition, in which the contestants must surmount a variety of fun obstacles. Spark Acting will lead a crew of drowned pirates to waylay all racers until they can pass our challenge. This event is free and open to the public, and all are invited to watch and interact with us. For more information, browse the event webpage and Facebook page.
Cult of Kosai; July 1st, 2018
We've joined a cult: the Cult of Kosai… which is the name of an improvisational performance troupe. At the show, with the help of audience suggestions, we create new realities, while improvising scenes based in those realities. The performance is Sunday July 1st, 7:30pm to 9:15pm, at the Temescal Arts Center, located on 48th Street, Oakland, California 94609 You bring your friends, we'll bring the koolaid.
Wonderland; June 2nd – June 3rd, 2018
Through Alice's fireplace is the entrance to a secret world of magic, wonder, and danger — full of new friends and strange enemies. Just a few guests at a time plunge down the rabbit hole for the trip of a lifetime.
Wonderland lasts for sixty minutes, with nine tickets available every hour. Note: Wonderland features moments of crawling and darkness and is not recommended for guests with claustrophobia or mobility issues.
For June 2-3rd only, interact with Ruth as she plays the Red Queen. Tickets are available online.
One Dope Ass Night; August 4th 2017
We're collaborating with the show's producers to add interactive fun to the event. Our fairy and satyr characters will use their magic to help you pursue your heart's delight. The show will also include eight live musical acts, two Burning Man camps, installation art, performance art, vendors, party games & prizes, black-light face painting, make-your-own buttons, sending yourself a birthday card, inflatable interactive toys, and magical happenings. Tickets and event details are available online.
Obtainium Cup; July 23rd 2017
The Obtainium Cup is a whimsical art car competition, in which the contestants must surmount a variety of fun obstacles. Spark Acting will lead the airship pirates in one of the challenges involved in conquering the race. This event is free and open to the public, and all are invited to watch and interact with us. For more information, browse the event webpage and Facebook page.
Clockwork Alchemy; May 26-29th 2017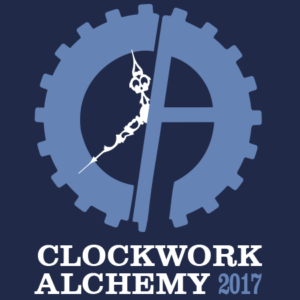 Spark Acting is thrilled to be returning to Clockwork Alchemy, this Memorial Day weekend at the DoubleTree Hotel in San Jose! On Friday afternoon we're hosting the workshop Embodying Steampunk Characters, from 3pm to 5pm in the San Carlos Room. On Friday evening we'll have three short performances at the Wind-Up Caberet. On Sunday afternoon, we're performing at the Acoustic Stage between 2pm and 3pm. We hope to see you there! http://www.ClockworkAlchemy.com/
The Goddess Gaia; November 19th 2016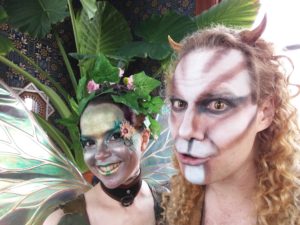 Spark Acting is performing as part of the interactive and immersive forest fantasy event The Goddess Gaia on Saturday, November 19th (previously October 22nd), as our fairy and satyr characters. The event will be held at the beautiful Hillside Club (map). See us on stage and as walk-about characters. Check out the Facebook event for more info. We hope to see you there!
Dance and the Dawn: Dreams of Ice and Ash; November 20th 2016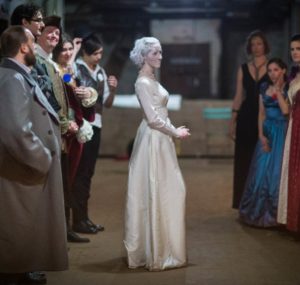 Spark Acting is part of Come Out and Play's Dance and the Dawn: Dreams of Ice and Ash. For this improvisational theater LARP, we'll teach the waltz dance lesson before the ball. During the ball, as Shadow Servants we'll help facilitate the game-play for the core players: six Ladies of Ash, who have come to the midnight ball in hopes of healing their heartbreak; seven cold, proud Lords of Ice; and the Queen of Ice and the Duke of Ash, the enigmatic figures who have arranged the whole affair. Dancing, dueling, courtly intrigue… and the eternal hope of romance and joy.
Matthew Briar and the Age of Resurrection; October 14th, 15th, and 16th 2016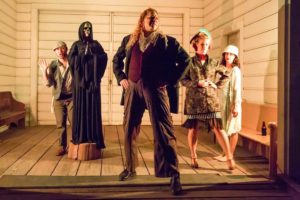 Spark Acting will be part of Epic Immersive's Matthew Briar and the Age of Resurrection. You'll enter three fully immersive acts — a 1907 World's Fair, the Roaring 20s, and a Depression-era camp — as you trace the epic saga of an inventor who finds a way to radically extend the human lifespan, and how his invention transforms life in the Valley of Heart's Delight. Read more, and get a $20/ticket discount!
Genentech Corporate Event; October 14th 2016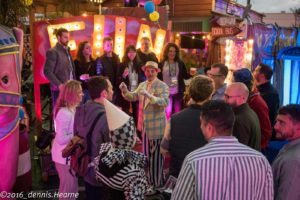 At this private event, we'll help Genentech employees step into the Mystic Midway's gamified interactive immersive world. Story Bucks will encourage players to evoke inspiration, reflection on and share stories, examine forms of value, and face challenges.
Ancien Regime; September 23rd and 24th 2016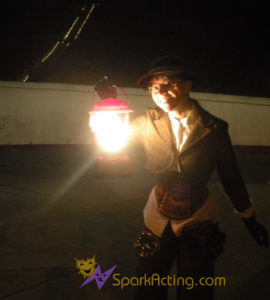 Spark Acting will be part of Come Out and Play's interactive fantasy historical event "Ancien Regime". This alternate reality adventure takes place in San Francisco's Fort Mason. Travel to the dawn of Revolution and navigate a society on the brink of collapse as you explore a mashed-up world of the high-powered Court of Versailles and 2016 Silicon Valley. Gameplay will take you across social classes and amidst danger as you find your way in a world where lofty ideas and scientific breakthroughs abound – but does everyone have enough to eat and survive? Come see us September 23rd (more info) and 24th (more info).
User eXperience Conference; August 9th 2016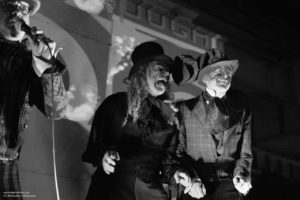 Spark Acting will help host the opening party for the UX Week conference. At this private event, conference attendees will step into a whimsical game world customized for the conference. Attendees will interact with the colorful characters there, and connect with fellow UX Week participants through games and activities designed to get all of us thinking in new ways about experiences, both our own and those we create for others. They'll talk about the strategies and tactics behind creating characters, environments, and activities that engage people in the real world. It promises to be fun, informative, and inspiring. For more information see the UX Week events schedule.
A Very Fairy Midsummer Soiree; July 30th 2016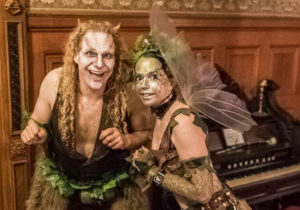 We'll join the Mystic Midway and Ensemble members of Midwayville for a very special and elegant evening of sumptuous faery delights and immersive theater at the Westerfeld House, San Francisco's intriguing historic landmark on Alamo Square. Tickets and event details available online.
Midwayville; Summer 2016

Midwayville is a unique reflection of the community spirit & soul of this great city, dressed up in a family-friendly fun pop-up live game carnival. Enjoy the tasty delights SoMa StrEat Food Park has to offer while engaging in a dazzling world of Carnival Games, Immersive Theater, DJ Dance Party Fun, wild costumes, a lively social vibe. Your stories & participation bring midwayville to life. The SoMa StrEats Food Park will be transformed into a live action video game: a multi-land pixelated theme park full of exciting attractions, bizarre sets, a customized floor game board mural and immersive show featuring dozens of costumed improv performers which all respond to your participation– making for a wildly participatory and playfully engaging experience.
Spark Acting Presents: Animism; May 29th 2016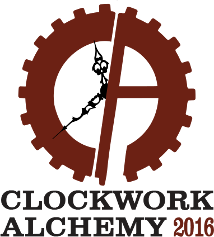 You might not know this, but your possessions have feelings too. Through the science of animism, Spark Acting can enhance those objects' nascent life spirit to the point where they can communicate. Bring inanimate objects that you wish could talk, and your wish may come true.
Spark Acting Presents: Titania; May 28th 2016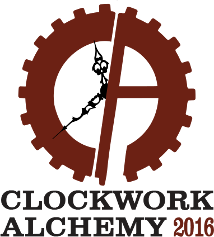 Professor Titania Taube is renowned as the most intelligent toaster in the world. Come hear Titania explain wonders, dispense advice, and answer unquestionably unanswerable questions. See for yourself the toast of the town. You are invited to arrive with your own questions for Titania to answer.
Workshop: Embodying Steampunk Characters; May 27th 2016
Casting off your mundane clothes to dress in steampunk attire is fun. During this workshop we'll instead cast off our mundane minds, and transform into and interact as steampunk personas. This workshop introduces you to improvisational theater techniques, and no prior acting experience is needed.
Spark Acting taught a workshop, "Embodying Steampunk Characters," at Clockwork Alchemy 2016. It was a fun and engaging class! Thank you to all of our attendees. We look forward to interacting with your characters throughout the weekend.